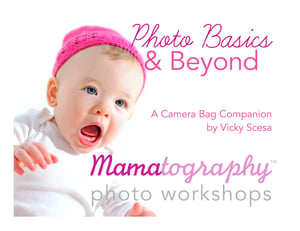 $

12.50 - On Sale
NEW & IMPROVED!!
Take your Mamatography on the go with this SELF PRINT visual guide book by Vicky Scesa.
Photo Basics & Beyond is a simple, FULL COLOR 8.5"x11" guide that fits snuggly in your camera bag (or diaper bag).
Topics Include: Camera settings such as Apertures aka Fstops, Shutter Speeds, ISO, Lenses, Flash Basics and Digital Photo Files.
All this information is sorted in a pretty-little, readable 20 pager that is a far cry from your camera's manual that's still in the box!
This product is sold as an INSTANT DOWNLOAD PDF. The document is sized to fit on standard letter sized paper. Printing at your printer's highest quality is recommended to maximize image reproduction. If your download doesn't begin within one minute please notify me through the contact page.
Reproduction of this ebook is strictly prohibited.
All purchases are safely placed using Pay Pal.
Photo Basics and Beyond is a publication by Vicky Scesa ©2012, All Rights Reserved.