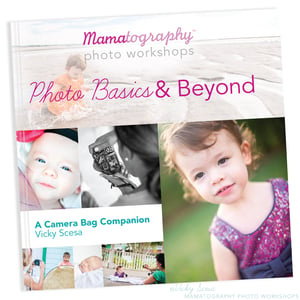 $

20.00
Take your Mamatography on the go with this visual guide book by Vicky Scesa.
Photo Basics & Beyond is a simple, FULL COLOR 7"x7" guide that fits snuggly in your camera bag (or diaper bag).
Topics Include: Camera settings such as Apertures aka Fstops, Shutter Speeds, ISO, Lenses, Flash Basics and Digital Photo Files.
All this information is sorted in a pretty-little, readable 20 pager that is a far cry from your camera's manual that's still in the box!
All purchases are safely placed using Pay Pal.
Books ordered here are shipped within 10 business days.
Photo Basics and Beyond is a publication by Vicky Scesa ©2013, All Rights Reserved.
For orders outside the US, please contact vicky@mamatographylessons.com